I wouldn't call myself religious, but nor would I consider myself an atheist. But well, I do believe that there exists a higher superpower that ensures karma hits you back in case you've been a nasty person or showers you flowers if you've been kind. In short, I strongly believe in the saying, what goes around, comes around. With that thought, as we were planning a weekend getaway from Chennai to Green Nest Resort in Kotagiri, Coimbatore was the connecting point. And while in Coimbatore, if you do not pay a visit to the Maha Adiyogi Shiva statue or the Isha Foundation established by Sadhguru, it would be a shame. So we decided to stop by the Isha Yoga Center before heading to our resort in Kotagiri.
It was quite early in the morning when we de-boarded our train at Coimbatore from Chennai. As planned, we first head to the zoom car pick up location to unlock our car.
We then drove to a nearby restaurant for some local South Indian breakfast.
Also Read: My Glorious All Girls Trip To Gokulam Grand Resort & Spa Kumarakom
I had seen pictures of several famous personalities who visited Adiyogi in their beautiful sarees and ever since I had it fixated in my head that when I visit, I want to be wearing one too. But, we did not have any lodging in Coimbatore as we were checking in that afternoon in Kotagiri. And I needed a place to change. The restaurant where we stopped for breakfast also had an attached hotel. So I requested the manager if they could let me use a room for 15 mins to get a change of clothes. He instantly denied it and suggested taking the room on rent for the day. It didn't make sense to pay for the entire day, so we left. My husband being the sweetest ever tried to convince me into renting the room knowing how much wearing that saree meant to me, but I decided against it.
We left for Adiyogi Shiva statue which was 11kms from the restaurant. On the way, we crossed several restaurants, but none appeared decent enough for me to consider quickly changing into a saree. We crossed a couple of gas stations as well and I decided to take a stab and stop at the next one. We got down and there were two washrooms in this gas station. One was locked and one was in use. I asked for the locked washroom to be opened. The manager at the station instructed chotu to open it. It was a lucky day, as the floor was dry. It was pretty clean and just what I needed. My husband and I did a high-five!
Also Read: An Impulsive Adventure to Jog Falls That Turned Out To Be The Worst Nightmare
Now, I do know to wear a saree, but not well enough to call myself to be very good at it. So as I got ready, I also asked my husband who waited by the door to see if he can find a lady who can help me with the draping of the saree. A couple then drove into the station to fill up gas for their bike and my husband requested the lady if she could help me with the saree. Good heavens, she obliged!
She was extremely sweet. We coordinated well and in less than 10 minutes, my saree looked perfect, I also had my makeup on and I was ready. Aashish also quickly changed into his kurta and jeans and off we went! Life in such situations feels like magic. And it's a true saying – Kehte hain agar kisi cheez ko dil se chaho, to poori kainath use tumse milane ki koshish mein lag jaati hai! I was extremely happy, of course about the saree but also about the fact that I have the best husband in the whole wide world!
Also Read: My Gorgeous Baby Moon at Munroe Island in Kollam
So, we drove for another few kilometers and finally made it to the gate with the signage of Isha yoga center. We drove through green spaces on either side for a minute or two and reached the parking lot. It was a humid morning. The sun was bright and harsh. But it all didn't matter as the moment we got out of the car and saw this magnanimous view of the Adiyogi Shiva statue, we were blown away. It was a sight to behold!
Also Read: Glamping In Chikmagalur – A Unique Geodesic Dome Stay at Birds Eye Estate
Recognised by Guinness Book of World Records as the world's largest bust sculpture, the Adiyogi statue is a 34-metre tall, 45-metre long, and 25-metre wide steel statue of Shiva that weighs about 500 tonnes. Although we had seen the pictures of the sculpture plenty of times, it was a different feeling witnessing it live.
We clicked a lot of pictures as we walked through a concrete path of about 300 meters from the parking lot to the sculpture.
With the Velliangiri Mountains in the backdrop, the views were just amazing.
We took some time going around the sculpture and marvelling at its architecture.
You could feel a very good positive energy and vibe in that place.
Just before you walk to the Shiva sculpture, there is a temple-like structure built where a pandit is doing the rituals. You can meditate and chant with others to religious slogans here. There is also milk Abhishek that you can do by paying a very small amount.
Also Read: A Scenic Weekend Escape To Honeycomb By Astral Inn In Vagamon
Also Read: My Workation at Miraya Hotel Panchgani That Was Just Mesmerizing
Next, it was time to head to the yoga center. The main attractions in the yoga center are the Dhyanalinga, Linga Bhairavi temple, Suryakund, and Chandrakund. There is a traditional bullock ride that you need to use from the Adiyogi Shiva statue to reach the yoga center.
Before entering the Yoga center, you will need to deposit your belongings including your mobile phone so that you are fully present while on this spiritual tour.
Surya Kund and Chandrakund are Theerthakunds, energising waterbodies where you can take a dip in to increase the receptivity to the energies of the Dhyanalinga. Surya Kund is for men and has masculine energies and Chandrakund is for women and has slightly feminine energy. These pools are energized by three rasalingas and are believed to have tremendous healing power as attested to by several thousands of visitors who come every year.
Also Read: The First Trip With My New Born to Sarvakaya Hill Resort in Yelagiri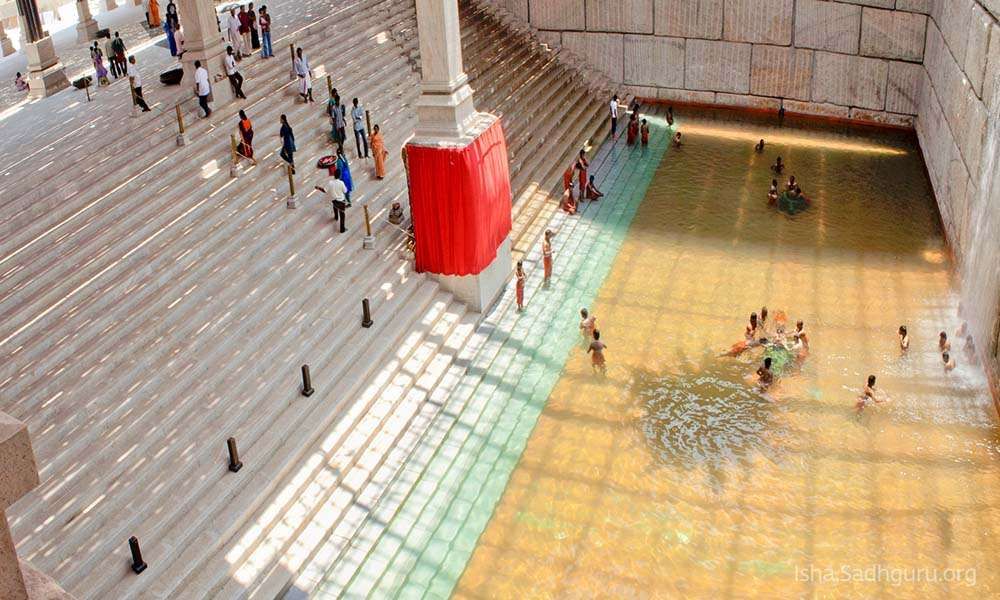 Chandrakund can be reached by descending 32 massive steps and is framed by gigantic granite stones. It is also vaulted by a colourful mural depicting the Maha Kumbha Mela.
Also Read: We Got Robbed On Our Greece Honeymoon and It's a Story Worth Your Time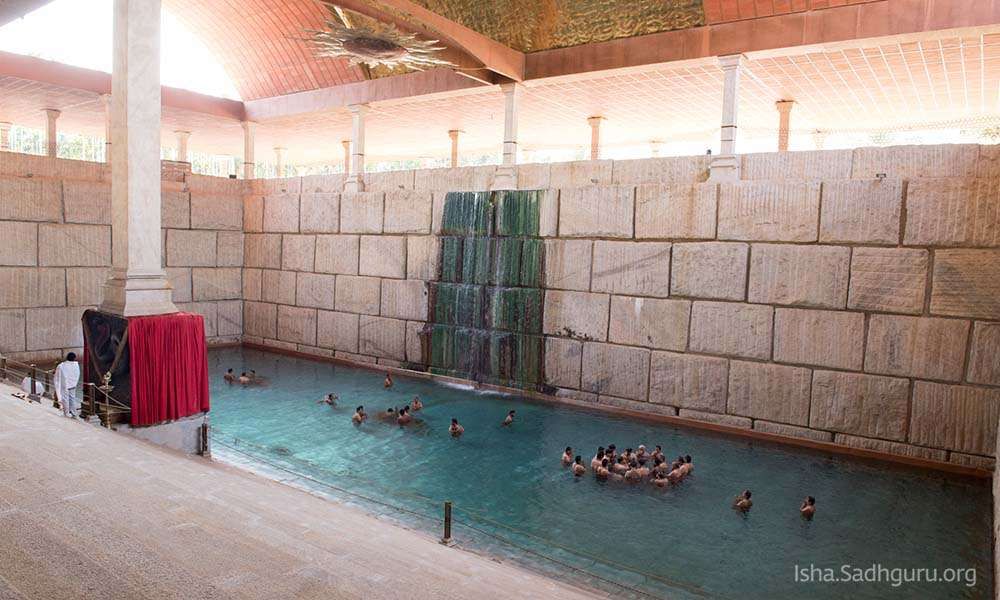 Also Read: My Breathtaking 8-Day Kodaikanal Workation at Cloudwalks Homestay
After a dip, you can next head to the Linga Bhairavi temple. Regarded as raw, powerful, earthy, humane and mother-like, Linga Bhairavi is an absolute woman of ultimate proportions – fierce and compassionate at once. As you stand in the line to seek blessings from the Devi, there is a Linga Bhairavi Stuthi that plays on repeat. You will feel the positive vibrations of the place in complete silence that is followed there. Devotees who seek to acquire or transcend the physical and materialistic aspects of life, Linga Bhairavi is a giver of all that and more. The deity is majestic. The chunk of vermilion on the forehead, the gold nose ring and the big eyes, you could feel a powerful energy in its presence. You can decide to sit by a corner in the temple and meditate to the Stuthis, and feel the peacefulness.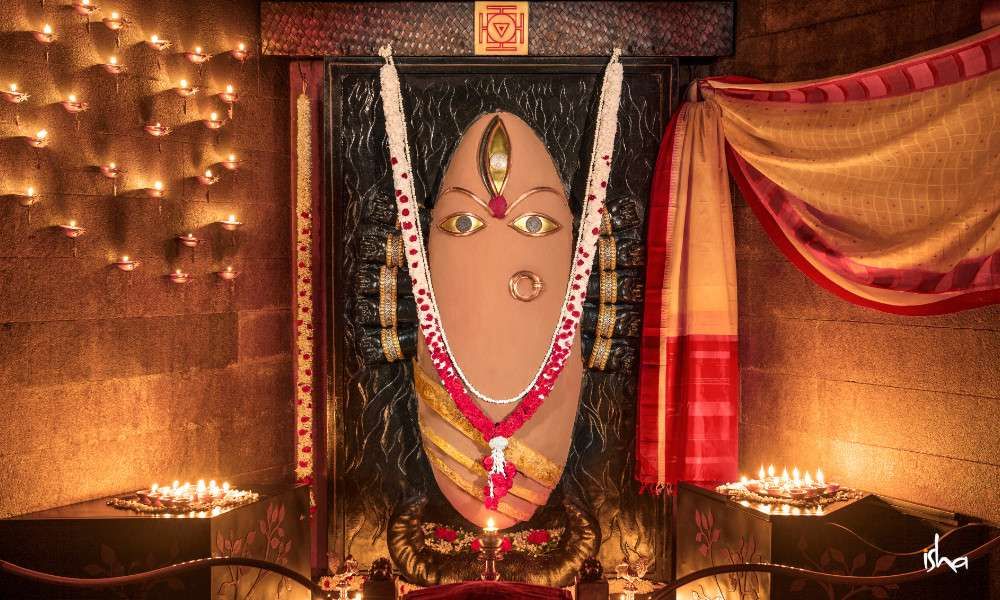 Saving the best for the last, head to the Dhyanalinga. As you make your way to the elliptical dome, you will notice that there is ultimate silence. In the silence you can hear the sound of birds chirping. If there are too many people, a sanyasi will instruct with a board in the hand to seat yourself, close your eyes and meditate for 15 minutes. After 15 minutes, as you hear the sound of a bell, you will notice people who came before you exiting the Dhyanalinga. You can then make your way inside and find an empty spot to meditate.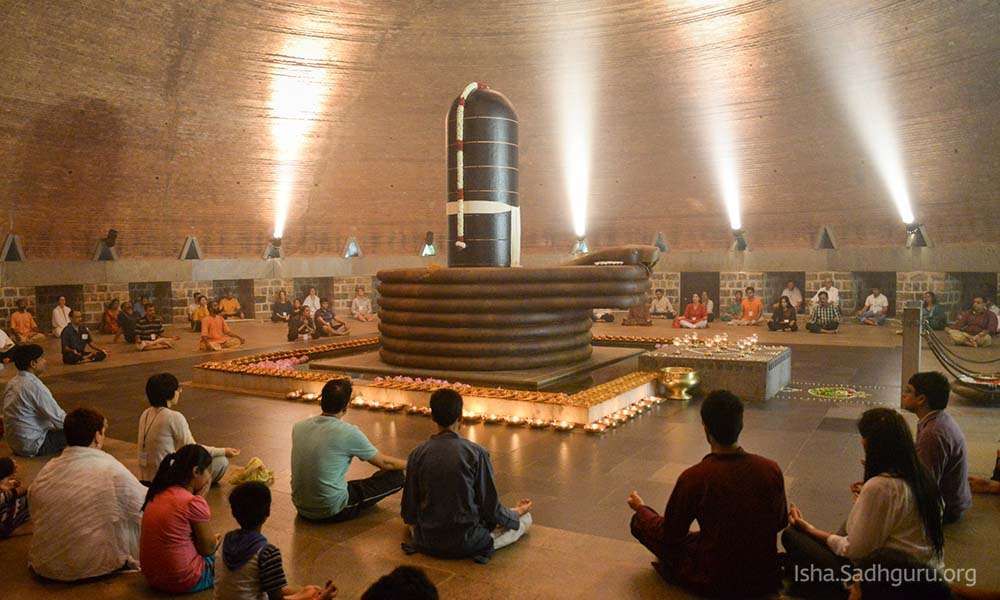 Also Read: My Festive Dubai 5 Nights 6 Days Itinerary That Was Just All Things Beautiful
Architecturally, Dhyanalinga is built out of bricks, and there is no use of steel, cement or concrete. This creates a cool and a cave like atmosphere inside the dome. Dhyanalinga is a profound meditative space built for people to experience enlightenment and spiritual liberation. It has the energies of all seven chakras raised to the peak and locked to prevent dissipation over time. To experience all that Dhyanalinga offers, just sit and gaze at the linga for a few minutes. Then close your eyes, resting your palms facing upwards upon your lap, just sit silently for a few minutes. This helps to make even those unaware of meditation experience to achieve a state of deep meditativeness. It was indeed a very good spiritual experience that I have never felt ever before.
Also Read: My Harrowing Experience of Walking The 12Kms To Tirupati Balaji Temple
It was unexpectedly a beautiful experience that we had at Isha Yoga center. As we exited after our 15 minutes of meditation, it felt good. On the way out there are a couple of small shops. You can stop to buy souvenirs or hydrate yourself. Do not miss buying yourself Neera, otherwise known as Palm Nectar, a drink extracted from the coconut tree. The drink is generally extracted before sunrise. It is sweet in taste and is translucent. In the hot Coimbatore weather in March, Neera felt like it was god sent. We gulped down two cups each and we were now charged.
I look forward visiting the yoga center soon, spend an entire day at Dhyanalinga and do some soul searching. For those wanting to visit Isha Yoga center, I'd recommend visiting during the evenings and on weekends. The 3D laser show happens around 8pm and I hear it is phenomenal.
The laser show, also known as Adiyodi Divya Dharshanam, narrates the story of Adiyogi & explains how human beings were introduced to the science of yoga in the voice of Sadhguru.
Alors! With happy memories we drove to our next destination – Green Nest Resort in Kotagiri!