28 May 2016
They say when the time is right, it happens to you.
With that saying, well, it just did. Tirupati just happened.
Visiting Tirupati was in my bucket list for the longest time. After a yearlong on and off plans, I finally did.
I will start narrating about my visit in detail, but before that I will stop and harp on a question posed by one of the fellow guys who was of quite a help in this adventure of mine. We were in a long queue that just didn't seem to want to move. Stuck there, he entertained me with this question. He asked me 'How's Tirupati?'
He obviously knew I wasn't having fun the least bit. Yet, I gave him an immediate nonverbal response – a thumbs up, a superb with the show of my hands.
Yes, hell yeah there was sarcasm.
But then again, ask me that question now!
Now that I'm finished, I think I might have a different answer.
Alors, Je vais commencer.
So, it was a Friday. Saju and I decide to meet at CMBT bus terminal after work. I take the Chennai metro from Alandur to CMBT and the exit leads me to the Bus terminal. A colleague had told me platform No.3 was where buses to Tirupati stopped. So, I walk for what seemed like a mile before making to the platform that was at the tail end.
I asked a bus conductor on where to get tickets from, and he points me to a ticket counter. I rush to the counter to find a queue. It was one such queue that I couldn't find an end to. I walk and I walk little more and manage to reach the end of the line. My mathematics (although very poor baring BODMAS) said that around 70 men and a few counted women that stood in that line before me. I very religiously joined that line and became that 71st person.
Also Read: A Scenic Weekend Escape To Honeycomb By Astral Inn In Vagamon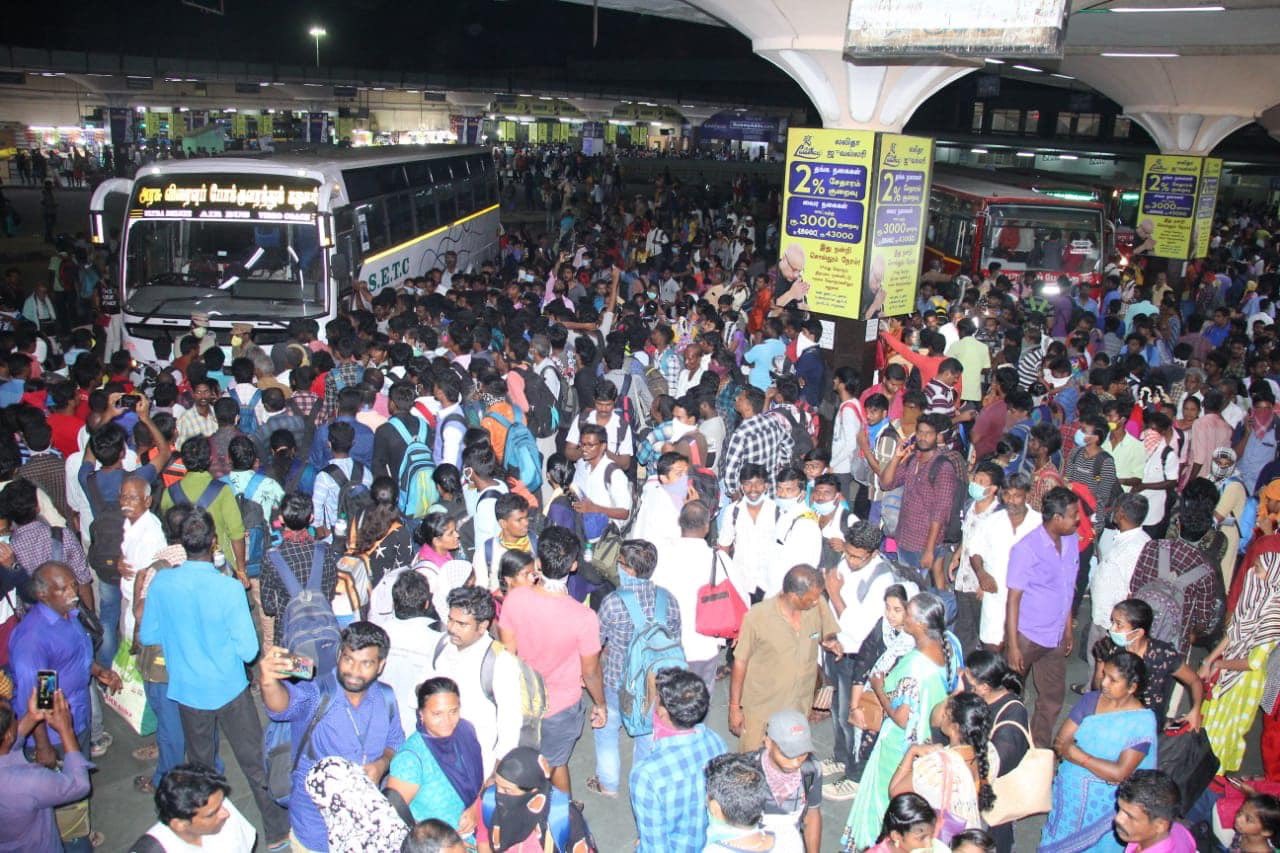 Now, let me take a moment off to explain you about my surroundings. Tirupati buses stop right next to the Gents toilet. These 70 men that I spoke of are probably those who ran that mile to reach the counter and so that explains the odour. Off these 70 men, few of their wives were agitated about their husband's planning, and agitated Tamil women can oh boy! Turn you on! (Right, of course I'm kidding), but the point I'm making here is that they did mentally rape their men then. And finally, Time on the watch said 10:45PM.
Yes, now is the time you can ask me why I didn't book the tickets earlier – My first mistake.
Also Read: An Impulsive Adventure to Jog Falls That Turned Out To Be The Worst Nightmare
Not that I didn't try. But there were some really nice people who said buses to Tirupati left every five minutes from CMBT. Not a true story! Yes, I indeed need to find those people and whack their backs!! Anyways, coming back, the queue moved in snail's pace and I only hoped Saju could come soon. She made it around 11:10PM. I didn't complaint about the present situation because both of us really wanted to go, at no matter what cost. She swapped soon with me. The crowd lessened with time. There were close to 15 people in the queue and the time was 11:45PM when the guy at the counter announced that all the seats were full and the next bus to Tirupati left at 4 in the morning.
Saju and I looked at each other with Oreey the peelings. We did not see this coming. Soon, those 15 people scattered. Few went home. Few waited for some miracle bus to drop down from Tirumala. Saju and I were confused if we should go home and come back for the morning bus or just wait. We just hoped something would come our way. Like Shaktiman may be. Or well, I prefer Iron Man more.
Well, we waited for an hour or so and soon a bus slid in. The entire leftover crowd ripped other people's shirts and tickled others' bones to make their way into that bus and find themselves a seat. Saju and I also joined the crazy crowd. And the conductor announced the bus leaves to Kalahasti.
Also Read: A Quick Weekend Getaway To Kotagiri's Green Nest Resort
Honestly, that was the first time I had heard of that place. Kalahasti, now that I know is a three and a half hour travel from Chennai famously known for a temple that attracts fruitless couples who can't have a baby. And the conductor continues, Tirupati is an hour from Kalahasti and he says trust me, I will take you guys to Tirupati from there. Perplexed, Saju and I decided to take the chance, knowing that most of the crowd in the bus was heading there, we had the conductor at trust. We found seats in different places, but we smiled, coz all's worth it if the plan is still on.
We reached Kalahasti at 3:30am and boarded our next bus to Tirupati. So, yes! It was happening. We couldn't thank the conductor enough. Our Iron man for the night! After an hour's travel, we reached Tirupati at 4:30am.
Honestly, I had not much knowledge about Tirupati apart from the fact that it's the holy city of Andhra, and that Tamil Nadu gave up on Tirupati in exchange for Chennai and the most prominent fact that people have blind faith in god. It might seem funny but honestly until yesterday I didn't know which god that was worshipped there. For all you people like me, it's the Lord Venkateswara Balaji, an incarnation of Vishnu.
Also Read: My Glorious All Girls Trip To Gokulam Grand Resort & Spa Kumarakom
So, the time was 4:45 in the morning as we embarked upon on our journey of climbing Tirupati steps taking god's name. Go-vinda Gopala we played the chorus for other devotees who chanted! Tirupati to Tirumala distance by walk is 12kms. 12kms walk up mount is no cake walk. 2083 steps to worship the Lord Hanuman or popularly known as Anjaneya and another 1467 steps to the pinnacle of Tirumala.
It was a beautiful sight as we moved up hill with devotees performing different forms of offerings. Some left a hint of vermilion and sandalwood paste on every step up. While some others left a piece of camphor and their other half walked up lighting every piece one by one. I had always wondered why Hindus lit camphor as an offering. It is believed that when the camphor is lit, it burns itself out, fully evaporating until there is no residue left leaving behind a sweet fragrance in the air. In the same manner, it symbolizes union with God and the promise of the devotee to burn their ego completely without leaving any residue. That's amazing right? Well, of course I read that up!
Also Read: We Got Robbed On Our Greece Honeymoon and It's a Story Worth Your Time
In the open space that we had on both the left and the right hand sides, we saw blocks of small brick size stones arranged one above the other. This ritual is believed to be performed by people who wish to build a house of their own. I quickly built my own little dwelling.
We rested at frequent intervals and kept us energized with biscuits and glucose that we carried. First hint of happiness in our expedition was when we saw the number 650 inscribed on one of the steps. That was really motivating. The ascending got tougher with time, but we managed to mount 2083 in two hours. Yes, pls do not judge our fitness and stamina. Saju and I almost dropped dead after making it to the Anjaneya Statue. On reaching, we found a huge 60 feet Hanuman shrine. We quickly made our prayers and did three circumambulations around the idol. There were bells of different sizes hanging on a rope around the idol; we ringed a few hoping our prayers would be heard.
Also Read: My Workation at Miraya Hotel Panchgani That Was Just Mesmerizing
And the next thing we looked forward to was finally visiting the Lord Venkateswara temple. So, we stood in the queue to get our tokens for the Darshan. Moving in the queue was more like going around in a complex maze, but after close to 45 minutes of going through all of that we made it to the token counter. A highly disinterested person with a sulking face at the counter asks me to look into a camera and then points me to place my index finger on a fingerprint recognition device. I do as asked. He then prints a copy of both my photograph and fingerprint and pastes it over the token and hands it over to me. Saju and I were both happy that finally after all the pain, now there's nothing else. No more obstacles. No more hurdles. Nothing comes in between me and the Lord.
But little did we know that we had another 1467 steps to mount. Another 7 mile walk. WTF! 'I'm not doing it' was my instant reaction when I saw a green board with the number 3550 for Tirumala. But Saju in her most subtle silent demeanour said 'Khush, we have come this far, it's just a matter of few more steps'. She wasn't convinced herself if we should be doing it I could tell, but both of us had it in the back of our heads, if we walk away now, all the pain would go waste. Furious on the Lord Venkateswara for making this journey all the more difficult, we started off again. This mount was quicker. We took bigger steps and lesser breaks. Also, the view was scenic. Spotted deers, they were really a sight!!
Two abla naaris attract what? Yes, young men who don't have to talk, their testosterone speaks for them. So, there were two guys who possibly tried everything to catch our attention. Uncalled for grins, taking breaks around the same time we do, passing by too close. But we had a big task ahead. Ignorance is what we gave them back.
Also Read: A Visit to the Inspirational Adiyogi Shiva Statue in the Foothills of Velliangiri Mountains
After climbing another 1300 steps, the pathway leads out to an open road. So for another mile or two, it was just walk and no steps. Honestly, that was a relief. But it can't be that easy. Can it? The sun wasn't too kind. The road had just got heated up from the scorching sun. My feet didn't feel good, but it wasn't too big a pain after all that we had already been through.
The time on the watch was 9.30am when we just had the last few steps to climb. Here is where we saw men and women making their way up the stairs on their knees. I was cribbing about having to just walk on feet; I really wondered how these people got the courage and the strength to do it on their knees. You come across certain situations in your life where you get cranky and crib about every other damn thing you have to face and then you see these people, their determination, the pain they go through; and you feel really small about yourself. I felt little.
We completed the 12 kms walk and 3550 steps escapade and made it to the top at 10am. That was a good 5 hours ascending up.
Also Read: A Spiritual Madurai Rameshwaram Tour Itinerary For An Amazing History Lesson
The next task ahead of us was to find a place to store our bags. Believe me, we asked so many people and each one gave a different answer and desperate that we were to just now already get the Darshan we tried every place each one of them suggested. We had lost half hour doing this, yet the bags were still with us. I had exhausted myself with all the walking that I finally sat in one corner in a flight of stairs and told Saju, 'You find the locker, when you come back you will find me here'. That time I spent sitting there, when I think about it now it brings me nightmares.
On the left and right were the Gents and the Ladies washroom. There were strands of hair lying everywhere. The floor was wet in places. Some really intelligent people had washed their sarees and left it out in the open for drying and the water kept dripping. It was gross. I just wished Saju would deposit the bag soon and we could just get out of that room. 15 minutes passed; yet there was no sign of her. She came back after another 10 minutes and to my disappointment she still had the bag with her. We let the bag episode to rest and started for Darshan.
So for those of you who have never been to Tirupati, there are 3 broad categories of darshan – Special Darshan where you pay Rs.300 for entry, Sarva Darshan where the entry is free, and Divya Darshan for people like Saju and I who take the Pedestrian walking.
So, we follow the display boards and make our way to the Divya Darshan entrance. We would think after 12kms walk, things would get easier. But honey, mind you that was just the beginning. We walked two kilometers and finally found the Divya darshan line. So there is a cage like structure that goes on for a few kilometers and to do Darshan, you need to go through the cage.
Also Read: My Festive Dubai 5 Nights 6 Days Itinerary That Was Just All Things Beautiful
Now the fun fact is that to enter the cage itself there was a 2kms line. Yes, you got it right. Nothing comes easy. Especially when it is your first time, things only get tougher. What was disturbing was, you start from Point A, and reach Point B and then again pass through Point A, only difference is that when you cross Point A for the second time, you have now entered a cage, and the feeling is of a helpless pigeon wanting to be set free. And you see these people outside who will be doing the same routine like you, and you want to scream out to them, 'Go back!!! You have no clue what you are getting yourself into.'
I felt helpless. Yes, I could quit all of this and go back home, but just for all the effort and time spent so far to go down the drain. So, although the thoughts kept creeping in, I decided to stay.
Time was 12:00pm when we finally entered the cage and joined the others. The line moved slowly little by little. There are times when it moved too fast and in such excitement everybody is rushing and then suddenly they shut the gate. All of us clearly unaware end up being in so close contact to each other that there is no room to breathe. It gets suffocating and you start to feel that you will choke to death. And to top that holding yourself in that position for a good 15 minutes! Go-vinda is all I could call out.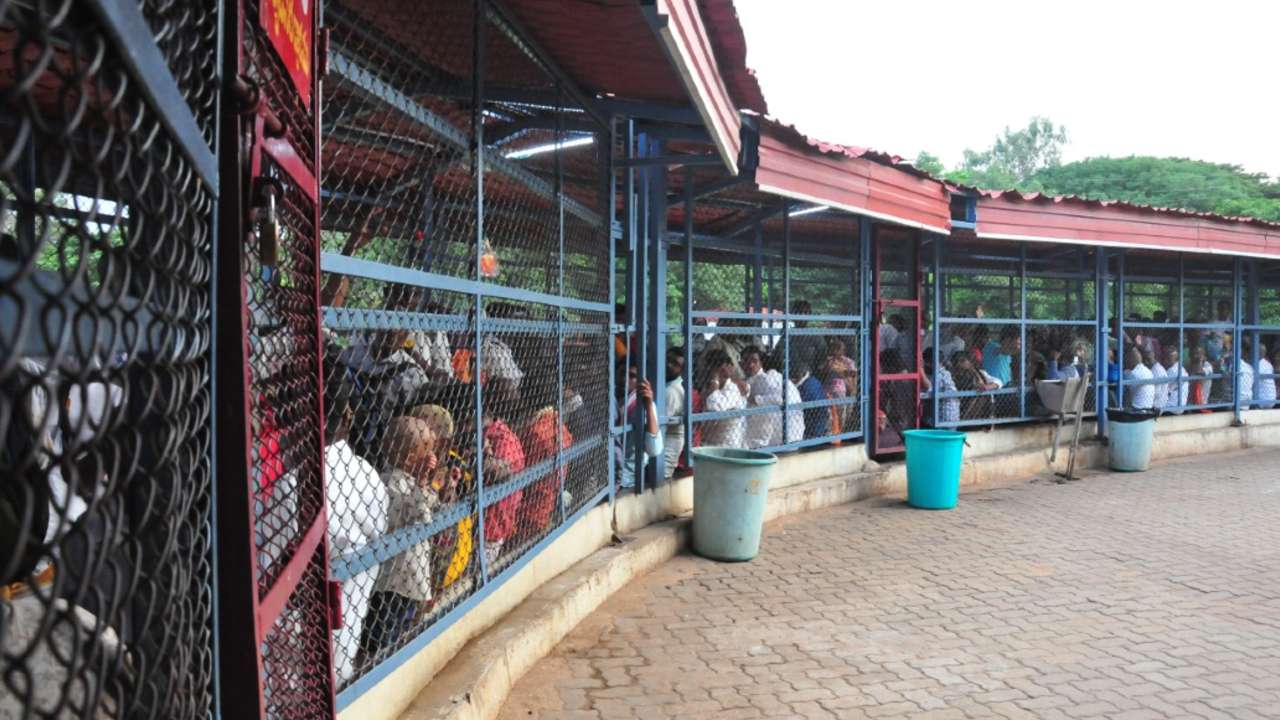 Time was 2.00pm and we still had not even covered half the distance to the temple. Soon we found some staff with their food carts outside the cage and distributing Upama. Honestly, I felt the kind of happiness a child feels when they are denied a chocolate but after making a huge hue and cry about it, their parents finally give up. And now when the child gets the chocolate, there is no sign of tears and the satisfaction is immense. Saju and I finished it in no time. That was second big hint of happiness in this journey of ours.
Now that we had filled our empty stomachs we had the energy and the patience to go for a few more hours. Whenever possible, we moved swiftly through the crowd. When we managed to make it out of the gate, the people with whom we started off were nowhere to be seen. We had left them far behind. But I kid you not, it was 5.00pm in the evening when we finally got out of that cage. It was a mixed emotion that I was feeling. I wanted to cry at the same time I just couldn't contain my happiness. The wait was finally over. I quickly calculated the approximate Darshan time and the time I'll be back to Chennai in my head and the excitement just wouldn't rest.
Also Read: Eat, Pray, Love: My Perfect 7 Days Bali Honeymoon Itinerary
Once we get out of the cage, we are locked in a room full of people. I didn't understand. I thought that we were going for Darshan. Apparently – not yet! Now that locking inside the cage wasn't enough, they shut you inside a room full of people.
In that same room, in a small corner is where you find a counter that reads 'Laddoo counter'. Now you would think, this is where you would get laddoos, but – no no! Not so soon. This is where you get the token to get the laddoos. Laddoos can be bought only after you are done with the darshan and apparently not in the Laddoo 'token' counter; in a laddoo distribution counter – or whatever you wanna call it. Yes, it gets only further more frustrating.
A guy very sweetly and earnestly asked if he should get it for us too when he does for him and we readily agreed. We rested for a while, while he made his way through the crazy crowd and bought us tokens. We thanked him and he flashed his dimple smile.
The time was 6:00pm and yet we were still stuck in the room. There was a TV in the center of the room, and they kept showing videos of some women doing Kathak. Saju and I tried our best to get amused by it. We tried imitating the expressions, and had a good laugh watching each other. The room was so packed that we couldn't move, and we had to sit with our backs straight.. The situation was such that we had two people in deep slumber with their legs stretched out, and their fat bellys clearly visible through their untucked shirts on both of our sides. We didn't have the space to move. Pathetic would be an understatement. Lord Venkateswara, 'you have tested our patience enough, now just please let us see you', I begged.
Six become Seven, and soon the time was eight. And finally there was some food – Sambar Sadam. The dimple guy helped us get the food the second time as well. The food was hot and yummylicious. That was the best Sambar Sadam I had in my entire life. I craved for more, but thought it wasn't right troubling the dimple guy again. This was the third best thing to have happened in the day.
Also Read: Glamping In Chikmagalur – A Unique Geodesic Dome Stay at Birds Eye Estate
Just like us, the other 90,000ish people who came to visit Tirupati that day, were locked inside rooms. The time was 9:00 in the night when they finally opened the door for Darshan. We moved slowly through the crowd; crossed the security checking points again, and made it to the temple at around 10:30pm. The temple was scintillatingly beautiful with the lights. And it had started to drizzle also. It was perfect. All the fatigue had vanished. I wanted to capture the moment. If only we could take the cameras inside. But that didn't stop me from capturing the picture in my head.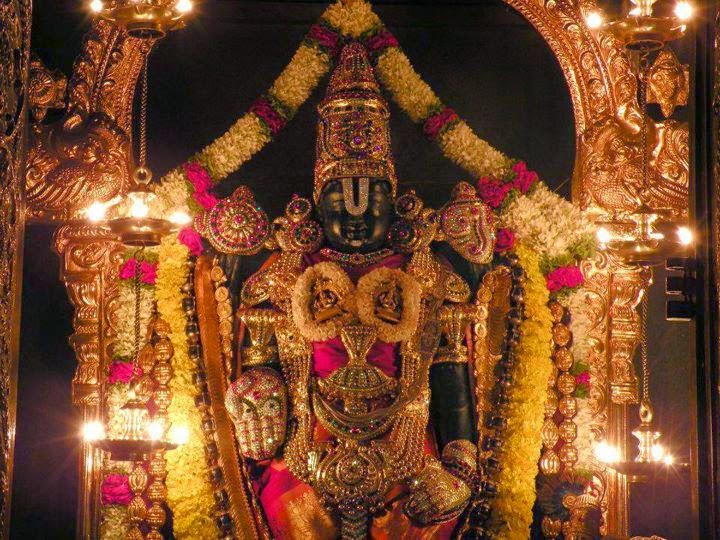 We entered the temple and there were security personnel at every nook and corner at the temple. They literally push you forward to move faster. That treatment was just similar to the way we would shoo away a stray dog coming chasing after us; no offence I understand they have a huge crowd to manage, but yet we deserve better. And yes finally you'd ask if I saw the Lord after this haymen! I'd say Yess, I got a good view of Lord for a good 15 seconds. It was gratifying. I quickly made my prayers. We were out by 11:00pm.
The dimple guy helped us with getting the laddoos, our slippers and the luggage. Phew! No more long queues for a long time now!! I Swear!
Now, all we had to do was find our way home. We had already missed the last bus from Tirumala to Chennai. So now, we had to first find our way down to the Tirupati bus stop, secondly hope we would find a bus and very importantly some good seats; not to mention the much needed sleep lost out from the previous night. So, the dimple guy joined us in the jeep that took us down. It took us an hour and fifteen minutes to get to the bus stop. That is when the realization stuck that we had walked a lot. ALOT!
After making it to the bus stop, we bid the dimple guy adieu and went looking for buses to Chennai. A bus came in 15 minutes. Saju and I literally ran towards the bus and the conductor just shooed us away. Apparently all the seats had already been reserved. We waited for the next bus, but my eyes were drooping. I just wanted a comfy bed and some beauty sleep.
We waited for another half an hour and there was no sign of any bus. Others at the bus stop kept saying the next bus would come only at 3 in the morning. Saju and I hoped against hope. Time was 1am when a bus came in. All the seats were reserved in this one as well. But right next to the driver, there was a small table cum seat and Saju just deposited her ass there. Ask me and I'd say that was the smartest thing she had done in her entire life. She pleaded the driver to let us use the seat as he drove the bus to Chennai. He agreed for a lesser price and we just dropped our stuff and let out a huge sigh! I didn't get sleep throughout the journey. But we made it to Chennai at 4 in the morning and I remember what I did right after getting back home – Make my bed and hit the sack!
Also Read: My Breathtaking 8-Day Kodaikanal Workation at Cloudwalks Homestay
A day later I researched to realise that the then Andhra Chief Minister N. Chandrababu Naidu had visited Tirupati on the same day. That explains the chaos and the looooong wait! Not good Mr. Babu!
So, this was our little adventure. If you ask me to describe my Tirupati experience in 5 little words, they have to be – A test of my patience!